Portable Air Conditioners
The first name in spot cooling still leads the industry.
Since 1982, MovinCool has been the go-to name in portable air conditioning systems for solutions to your overheating problems. Our commitments to quality, innovation and service combine to give you the best value — the reason MovinCool is known worldwide as "the #1 portable spot cooling solution."
Find your local MovinCool dealer
Answering with innovation.
MovinCool entered the market with a unique, self-contained, portable air conditioner. Subsequent advances include the first programmable spot coolers, ceiling-mount coolers, and the first and only portable coolers that are connectivity-ready for wireless IoT systems.
With MovinCool's continuing innovation as a driving force in the industry, users increasingly realize the benefits of portable air conditioning for making their operations productive.
Multiple, versatile solutions.
MovinCool is dedicated to product development and providing a complete catalog of portable cooling solutions. These include:
What's your application?
MovinCool portable air conditioners bring controlled comfort in almost any application you can imagine. Some of the more popular are: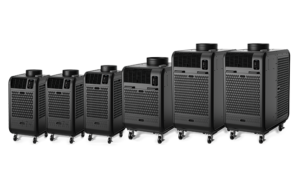 Made especially for commercial spaces where comfort is essential to productivity.
Spot-cooling for commercial and industrial applications —perfect for cooling people and production processes.
We're here for you.
Our experts will help you determine which MovinCool products are best for your application—and provide answers for technical questions about your product. (Please have your unit's serial number handy.)